Deliveries with a truck-mounted forklift
Gheeraert Transport is specialised in transportation with a truck-mounted forklift.
This means more deliveries in less time!
Truck-mounted forklifts allow us to unload wherever and whenever you want.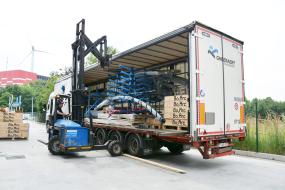 Truck-mounted forklifts
Gheeraert Transport has 15 truck-mounted forklifts that are stowed at the rear on the semi-trailer. This allows the lorry driver to load or unload goods without assistance on-site. Thanks to the truck-mounted forklift, the driver no longer has to depend on others.
Using a truck-mounted forklift is ideal for:
deliveries right into building sites
deliveries right to the customer's door
deliveries of gardening equipment
deliveries of construction materials
The capacity of our forklifts
Do you have a long, large or heavy package? No problem at all!
The truck-mounted forklift has a capacity of between 1,500 and 2,500 kg and can travel in 4 directions for long loads. We also deliver to accessible but rough terrains when this is most convenient for you.