International transport - groupage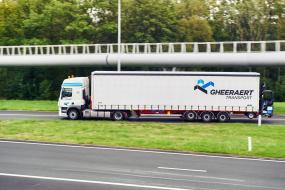 Groupage is the bundling of various consignments or split consignments from different customers. Our transport operators combine the goods in the best possible manner to ensure more economical journeys.
This results in lower transport prices!
Are you looking for a reliable partner that can transport your goods with the necessary care to a national or international destination?
From partial loads to full loads
Gheeraert Transport has been a specialist in the national and international transport of goods on pallets for over 65 years.
Whether its building materials, printed materials, furniture or chemical products, we will deliver these to your customers anywhere across Western Europe.
We can transport full or part loads every day to:
The Netherlands
Germany
France
Switzerland
Austria
Italy
Spain
Scandinavia
The Astre distribution network enables Gheeraert Transport to safely deliver both individual boxes and pallets to all European destinations.
Why choose Gheeraert Transport?
Personalised contact with your suppliers and customers abroad.
Deliveries and collections in accordance with your preferences and instructions.
Trained drivers for transporting hazardous substances (ADR).
We work together smoothly with specialised partners in Europe for the further division of pallet consignments.