Transport with crane trucks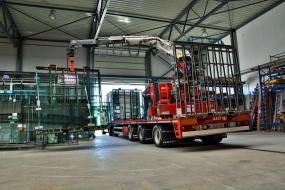 We have 7 semi-trailers in our fleet that are fitted with cranes that have a reach of 10 metres. For the greatest possible safety, extra weight can be hoisted by extending the outriggers on the semi-trailer!
We also have trailers with cranes that are operated by a mobile remote control. 
Specialised in the transport of glass and construction materials