Gheeraert Transport takes over Bruges firm Transport De Sauter
13-06-2016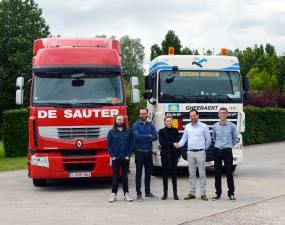 Stijn and Peter Gheeraert, the managers of the eponymous firm Gheeraert Transport from Loppem have taken over another player in the sector, Transport De Sauter. Both parties reached an agreement for the take-over on 1 July 2016. The take-over of Transport De Sauter's activities represents a 20 percent growth for the Gheeraert group.
Peter Gheeraert: "This is a unique opportunity for us to accelerate the roll-out of our strategic vision for sustainable growth. Transport De Sauter's premises occupy 3.8 hectares and have 6,000 m² of storage facilities. They are located alongside our current warehouse on Pathoekeweg in Bruges. This take-over also offers economies of scale for both companies and will enable further expansion and innovation."
Continuity guaranteed for De Sauter's employees and customers
The active family shareholders of De Sauter carefully searched for a party that could guarantee the continuity of their company for both employees and customers and that shared the same vision of the future.
Sybil De Sauter, Managing Director of Transport De Sauter: "We are convinced that Gheeraert Transport is the best partner to support us and to guarantee the continued operation of our company in the future."
The company's activities will continue under the existing company name Transport De Sauter NV. Its 25 employees and fleet, consisting of 20 trucks and 40 trailers, are fully included in the take-over.
"The companies complement each other which is positive for staff, customers and suppliers. Both of the family-run firms have very similar business cultures and strategies. They both put an emphasis on customer satisfaction, safety and quality. Furthermore, Transport De Sauter works entirely with Belgian drivers, just as Gheeraert Transport does. "During the first phase, we will search with Transport De Sauter for new port-bound logistics activities with added value. The location of the depot in the inner port of Zeebrugge combined with Gheeraert Transport's expertise are extremely well-suited to this," added Stijn Gheeraert.