Training of competent drivers
Does your company employ Dutch-speaking truck drivers? Or are you a professional driver yourself? Register for the code 95 courses at Trans-Form Academy!
Since 2009, the European Union has wanted to raise the quality of professional drivers to a higher level. That is why every professional driver must have completed a total of 35 hours of training every five years at a recognized training center.
Trans-Form was founded in 2010 by Gheeraert Transport to train our personnel. TRANS-FORM has been a separate company since 2020, with the aim of sharing our knowledge with everyone in the transport sector. The training center and all instructors are officially recognized.
Thanks to our many years of experience in transport, we provide qualitative and practical Dutch-language training courses of professional competence.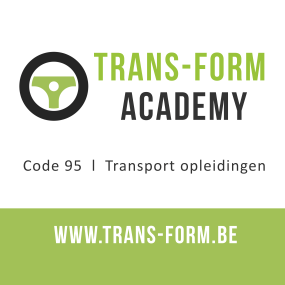 Code 95 opleidingen
Thema 1: rationeel rijden
Thema 2: toepassing van de voorschriften
Thema 3: gezondheid, verkeers- en milieuveiligheid